Your shopping cart is empty!
Melatonin 3mg - 30 Tablets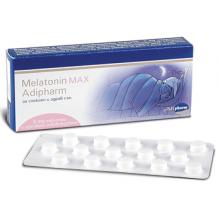 Product Code:
Melatonin 3mg
Reward Points:
0
Availability:
In Stock
Melatonin 3mg - 30 Tablets
- Helps falling asleep
- Coordinates the normal rhythm of awake-asleep
- Do not cause fatigue and sleepiness when awaken
- Slows down the aging processes
- For easier adaptation after traveling in different time zones
- Do not cause addiction
Contents:
Each tablet contains 1 mg Melatonin.
Characteristics:
MELATONIN serves as a marker of the "biological clock" of the organism and plays a significant role in falling into a normal sleep. The human body produces greater amount of MELATONIN when the night comes (8-9 p.m.). The maximum values are reached at midnight and decrease with the day dawning. The amount of MELATONIN is highest in small children and decreases gradually with the age. This fact can explain why people at middle age as well as old people often complain from sleep disorders.
It is proved that MELATONIN has a favorable effect during menopausal and andropausal period. It has also a favorable effect in psycho-vegetative disorders and reduces depressive mood and anxiety. MELATONIN ADIPHARM increases resistance of the organism by opposing stress-induced inhibition of the immune system. MELATONIN ADIPHARM is an extremely effective for easier adaptation after traveling in different time zones (jet lag).
Dosage:
The recommended dose is 1 tablet half an hour before bedtime. For adults above 55 years age – 2 tablets.
Write a review
Your Name:
Your Review:
Note: HTML is not translated!
Rating:
Bad
Good
Enter the code in the box below: